King Bill Snyder's Accolades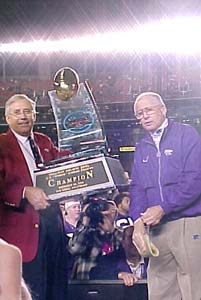 King Snyder accepts the 1999 Holiday Trophy Bowl trophy.
Congrats go out to the Kansas State Wildcats on a terrific season! Yes, we all wished for the national title, but it has been a wonderful ride. It seems hard to believe that barely more than 10 years ago, the King and I both had our first year on the KSU campus, and the Cats went 1-11. Every year under the king, there has been step by step growth as follows:
1989: first win in 30 games (North Texas State), 1-11
1990: first win against a conference opponent (Oklahoma State), 5-6
1991: first winning season since 1981, 7-4 (and beat the KU Chickenhawks for the first time in 6 years).
1992: first undefeated home season, 5-6
1993: first 9 win season since the early part of the century, second bowl in school history. 9-2-1
1994: first top 10 ranking
1995: first 10 win season since the early part of the century, first top 10 finish, 10-2
1996: first Jan 1st bowl ever (Cotton), 9-3
1997: first Alliance bowl, first 11 win season, 11-1
1998: Defeated Nebraska, went undefeated in regular-season conference play, first #1 ranking. 11-2.
1999: In what the so called "experts" called a rebuilding year, the Cats went 11-1, and finished with their highest final ranking ever, #6.
2000: Defeated the highest ranked opponent ever (Nebraska, #4). Won the Big 12 North. Won 11 games, becoming only the second team in history to win 11 games for 4 straight seasons. Won back-to-back bowl games for the first time and now have a career winning record in bowls (5-4). 11-3, #8.

Check out the cloud over Nebraska! Watch out Huskers -- the Cats are takin' you down! (This photo is a real satellite image)


Back to King Snyder Main Page